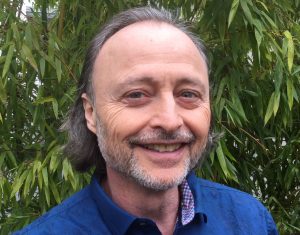 Majie Lavergne is an award-winning French Abstract painter, born in Paris, France. His father, Robert Lavergne, a well-recognized post-impressionist painter, fostered his love for painting at an early age. His fascination for abstract art came from his Godfather, Louis Nallard, a pioneer of the French lyrical abstract movement.
Following his fifteen years career as a documentary filmmaker in New York and Los Angeles, Majie obtained a Masters in Art Therapy and Transpersonal Counselling. He then gradually turned back towards painting and now dedicates his time to creating art.
His work has appeared in more than 20 solo and group exhibitions, in Paris, the United States and Canada. Majie has received five awards by the Federation of Canadian Artists. In 2015, Majie and his solo show in Vancouver were featured by both CBC TV & Radio Canada. In 2016 CBC Radio Canada TV did a reportage on Majie highlighting his Interactive Art, Re-Create. Articles have been published on his work in PBQ News, Nanaimo Bulletin News and La Source. Majie's art is included in many private collections in the US, France and Canada.
Nanaimo, Vancouver Island, is now his home where he dedicates his time to painting and creating Interactive Art.